---
below you can find information on my two full length romance novels, with ebooks available at many locations & paperbacks available through Amazon. if you'd like to support me directly, my ebooks can be purchased through: jemzero.itch.io
i also have a Patreon, on which i run an exclusive serial called Veilborn, in addition to giving regular updates about my art, publishing, and other creative endeavors. you can find info about Veilborn here.
A SPARK IN HIS HAND (Voltaik #1), a full length science fiction romance published by City Owl Press, will be coming out on June 4th, 2024. add it on goodreads!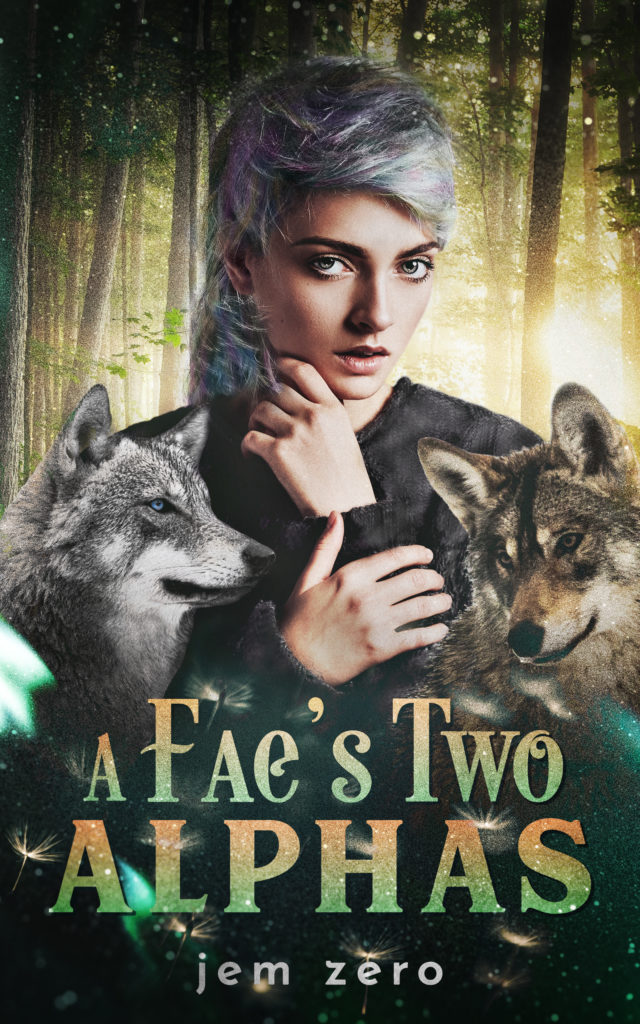 A Fae's Two Alphas
Bennett Chiston is fed up.
After eight years with his fae father in Faerie, being trapped in a small Northern Michigan town with his controlling human mother is pure agony. Magic defined Bennett—it affirmed his identity as a trans man and allowed him true freedom.
Too bad Bennett's father stole his magic and kicked him out of Faerie with zero explanation.
Desperate to return, Bennett hunts down Callum Truett, a reclusive magewolf alpha who may be able to restore Bennett's magic. He doesn't expect his long-lost childhood best friend Jesse Chen, another alpha wolf shifter, to barge in during the meeting. The tension between the two alphas is impossible to ignore, but it works in Bennett's favor when Jesse needles Callum into accepting the job.
As each magical experiment fails, taciturn Callum keeps Bennett grounded, while cheerful Jesse lifts his spirits. The developing three-way connection turns into powerful attraction, even forcing Jesse and Callum to confront the mutual feelings they'd denied until Bennett arrived. Together, they all fit.
Yet Bennett still can't let go of his desire to leave the mundane realm behind. Everything about it makes him miserable. Everything except Callum and Jesse.
When an opportunity to return to Faerie finally appears, Bennett is forced to choose: give up his two gorgeous alphas, or change his definition of home.
***
A FAE'S TWO ALPHAS is a 76,000 word M/M/M paranormal romance with a trans man protagonist. There is no omegaverse or mpreg. The romance is a triad, not a love triangle, and features multiple open door intimate scenes. Happy ending guaranteed.
---
Home Within Skin
A homeless trans man and an alien sex worker ruin each other's nights, film a porno, and fall in love.

Jax, a disabled trans man with more hangups than belongings, has survived two years of homelessness by keeping his head down and refusing to trust. The intergalactic Rrhi immigration reshaping life on Earth seems irrelevant until Jax sneaks into a hotel hoping for a respite from the cold and accidentally barges in on a Rrhi sex worker.
Sei-vész is stunning, but his defensiveness almost scares Jax away. Almost. Jax sees his vulnerabilities mirrored in Sei-vész, so he accepts the other man's reluctant offer of a truce. What starts as a one-time experiment spirals into an unexpected deep affection that draws them into each other's arms again and again.
When Sei-vész tries to protect Jax from his own stubbornness, though, Jax digs in his heels. Love isn't a guarantee, and relying on others is what landed him on the streets in the first place.
If Jax wants a future with Sei-vész, he'll need to challenge himself… and open up to trust. Otherwise he might be left out in the cold once again.
***
HOME WITHIN SKIN is a 63,000 word M/M alien romance with a trans protagonist. It is written in second person, present tense. The story includes descriptions of PTSD, abuse, sex work, and homelessness, and has multiple open door intimate scenes. Happy ending guaranteed.